As part of our social services to the nation and the society the Construction Association of Bhutan initiated contributions and services to the concerned The Royal Government of Bhutan.CAB through the contributions made by the contractors had been a successful initiative to support the government in a small ways at this crucial time. The contributions are specified as follows to maintain record for further submission to the Royal Audit & CSOA and also to provide transparent information's to its member contractors.
Contribution to the Prime Minister COVID-19 Relieve Fund.
A delegates from the board led by the President handed over a cheque of Nu.1.5 Million to the Prime Minister for the COVID Relieve Fund. The contribution was initiated and coordinated by this association from the member contractors as a voluntary contribution to the government during this COVID-19 crisis.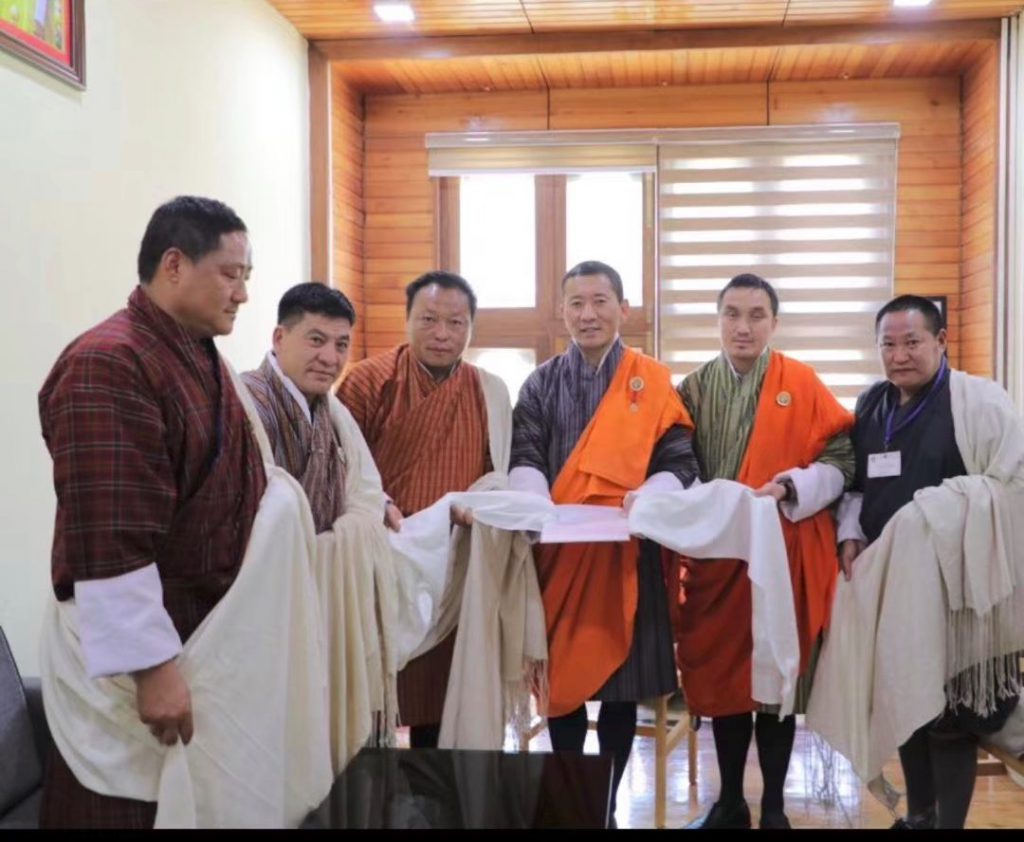 In continuation with the above COVID-19 contribution, this office had further went ahead with the collections from those contractors who have not contributed earlier. So overall the collection had reached again around two millions which is equal to twenty lacks besides above contribution. From the total collection in addition to the above contribution this office had generously contributed 1.7 million to His Majesty's Kidu Fund.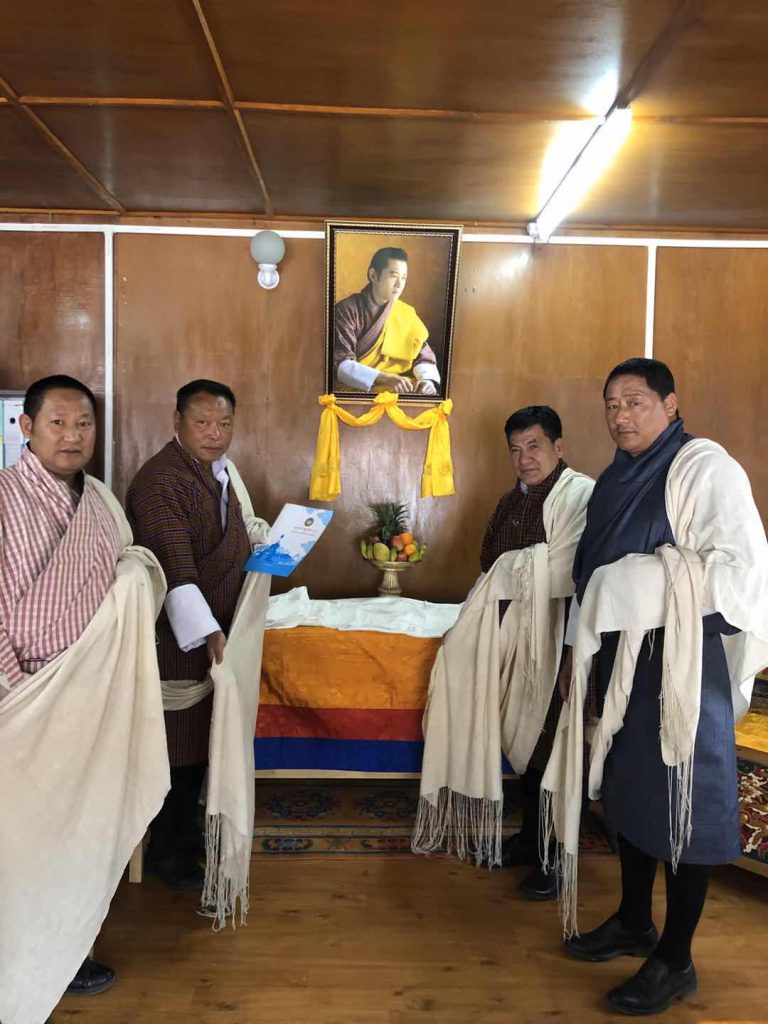 The remaining amount of Ngultrum three hundred thousand was contributed to the Bhutan Chamber of Commerce & Industry as a contribution from the contractors to the business Community i.e BCCI for further contribution to the Kidu fund.
Construction Association of Bhutan was also able to contribute around Nu 30,000 to the Civil Society Organization as part of Face Mask Project which will also be contributing to the Kidu Fund from CSO fraternity.
Besides all the above contributions made to the government, this office was also able to generate construction machines & equipment's for free to the government. Such assistance were provided to the public in the south by our member contractors to promote social service during such crucial time.CAB was able to provide one time refreshment to the thousands of people working during that time. The record of services are as follows in pictures.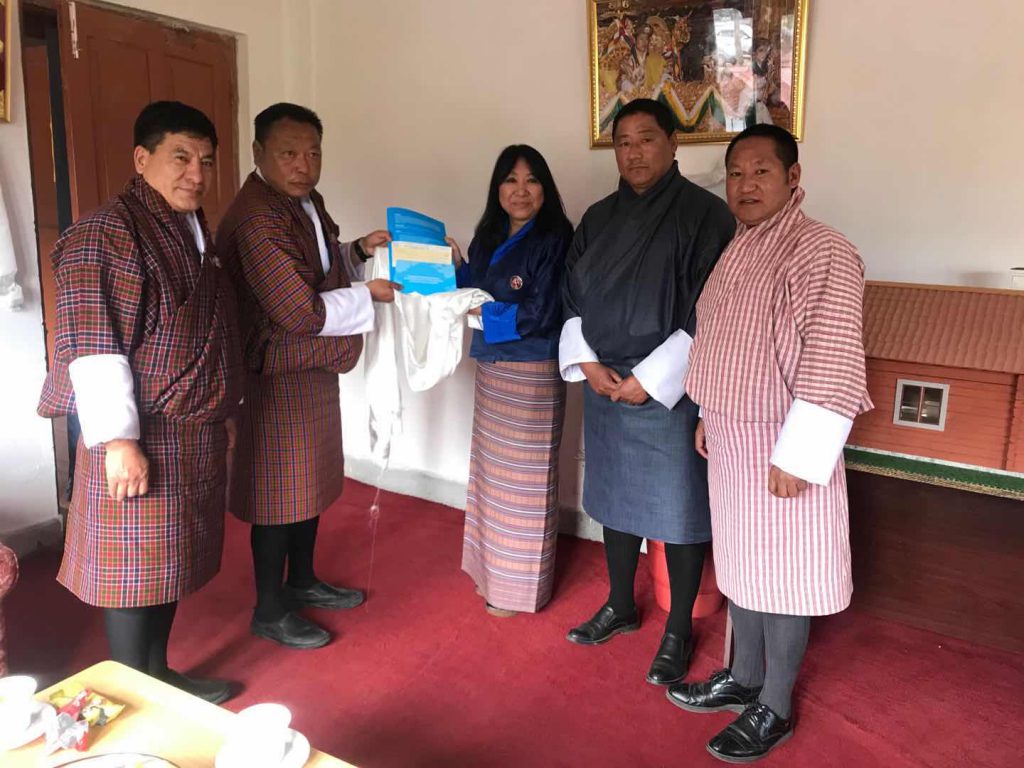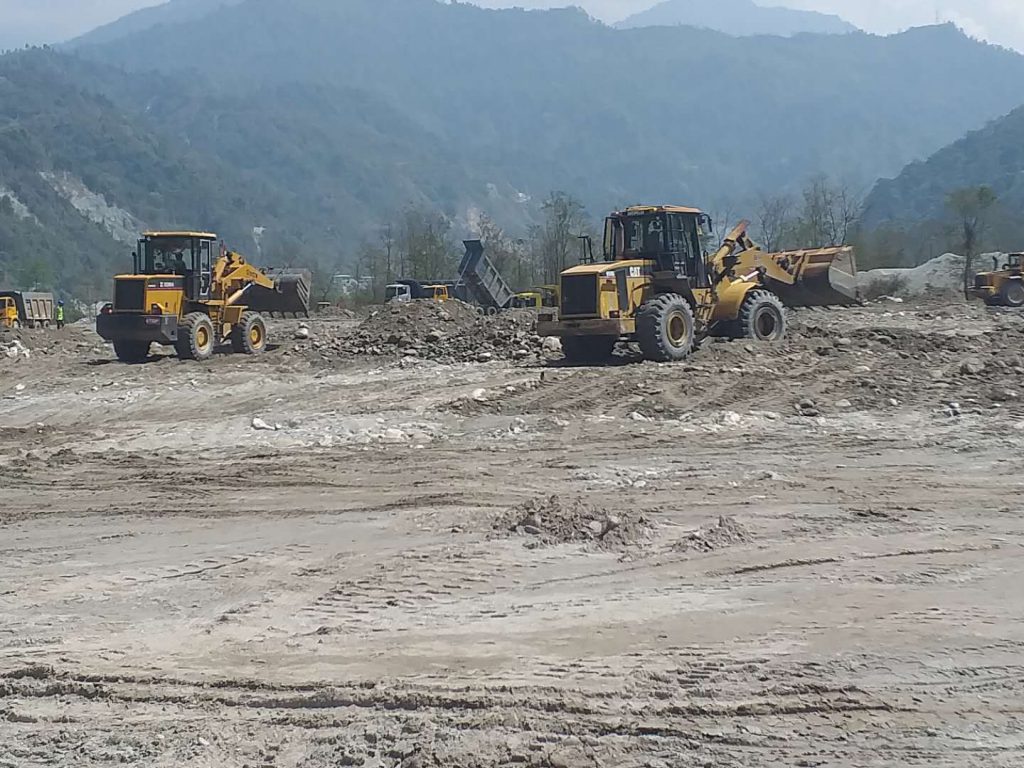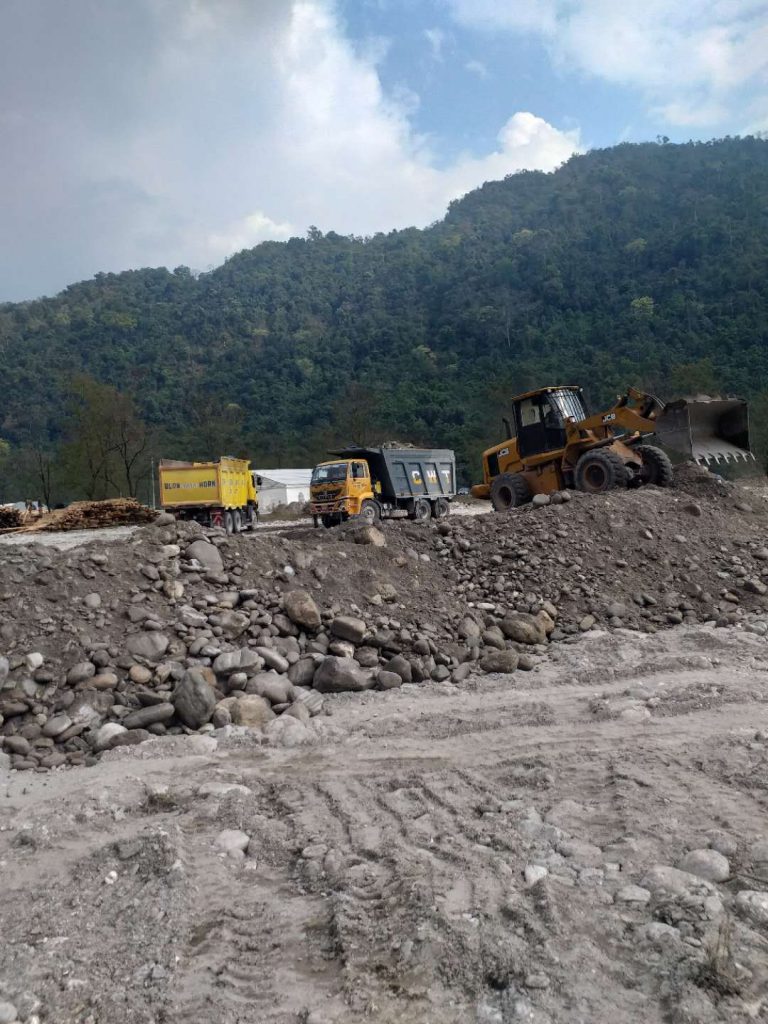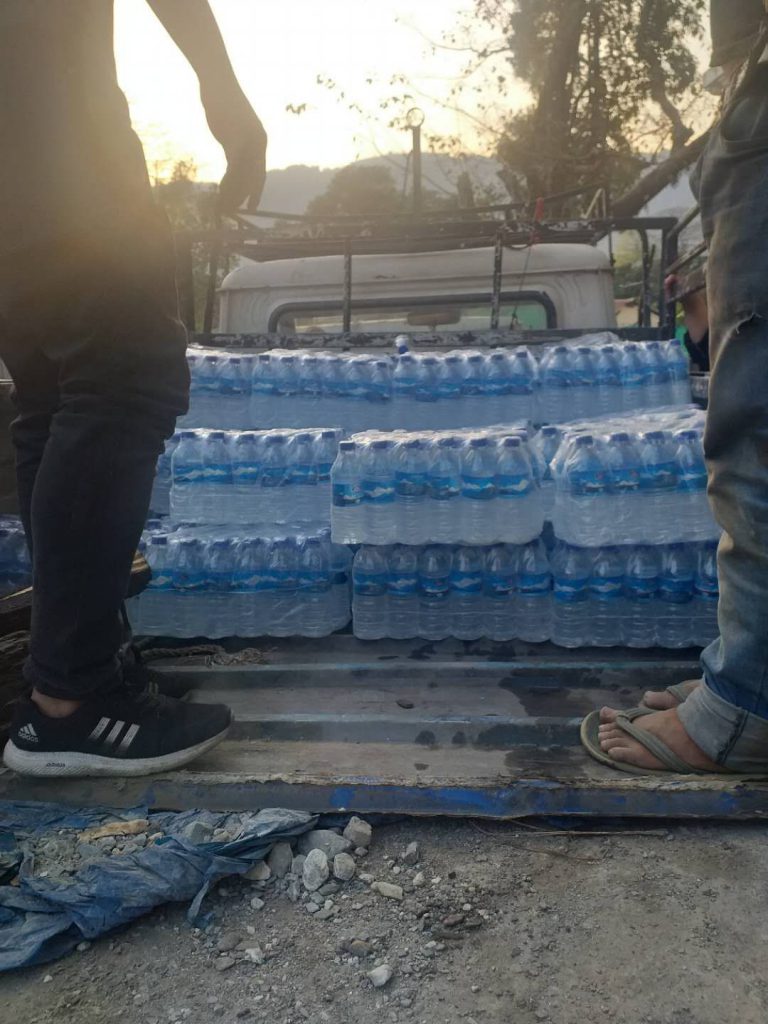 Table
Sl.No.
Contribution
Amount
Remark
1
PM Office
1.5 Million
By President & Board
2
HM Kiddu Office
1.7 Million
By President & Board
3
Through BCCI (Private Sector)
3 Lacks
By President and Board
4
Through CSO (CCC Secretariat)
30000
office
5
Refreshments for Phuntsholing Housing Project.
70,000
CAB representatives
Over All Total
3600,000
Contribution received from Contractors for COVID-19
| | | | | | |
| --- | --- | --- | --- | --- | --- |
| SI No | Date | Receipt No | Firm Name | CDB no | Amount |
| 1 | 27.03.2020 | 23440 | Ananda Construciton | 7919 | 1,000.00 |
| 2 | 03.04.2020 | 23470 | Apple Builders | 7370 | 5,000.00 |
| 3 | 14.03.2020 | 23259 | Baemedh Lhendrup Construction | 8438 | 2,000.00 |
| 4 | 17.03.2020 | 23418 | Barko Const | 5118 | 10,000.00 |
| 5 | 19.03.2020 | 23400 | Bato Const | 8314 | 1,111.00 |
| 6 | 19.03.2020 | 23503 | Bay Cho Const | 7984 | 1,500.00 |
| 7 | 14.03.2020 | 23216 | Bhutan Const Pvt Ltd | 3206 | 20,000.00 |
| 8 | 11.04.2020 | 23490 | Bhutan Construciton Pvt ltd | 3206 | 5,000.00 |
| 9 | 13.03.2020 | 23213 | Bhutan Engineering Power co Pvt Ltd | 1656 | 50,000.00 |
| 10 | 13.03.2020 | 23204 | BLUE HEAVEN Construction Pvt Ltd | 1174 | 25,000.00 |
| 11 | 23.03.2020 | 23529 | Bumzang Const | 4449 | 10,000.00 |
| 12 | 26.03.2020 | 23565 | C.D Construction | 1087 | 1,500.00 |
| 13 | 15.03.2020 | 23284 | C.T Construction | 3155 | 5,000.00 |
| 14 | 27.03.2020 | 23435 | CC Construction | 7885 | 2,500.00 |
| 15 | 14.03.2020 | 23262 | Chado T.Construction | 7399 | 5,000.00 |
| 16 | 18.03.2020 | 23360 | Chaggwong Const Pvt Ltd | 1033 | 3,000.00 |
| 17 | 27.03.2020 | 23437 | Chaggwong Const Pvt Ltd | 1033 | 10,000.00 |
| 18 | 23.03.2020 | 23527 | Changsonam Const | 3585 | 1,500.00 |
| 19 | 25.03.2020 | 23550 | Changyul Construction | 7683 | 2,500.00 |
| 20 | 17.03.2020 | 23419 | Chencho Dorji Const | 5691 | 5,000.00 |
| 21 | 19.03.2020 | 23381 | Chhogden Const | 3600 | 5,000.00 |
| 22 | 16.03.2020 | 23416 | Chi Gyel Const | 7403 | 5,000.00 |
| 23 | 15.03.2020 | 23401 | Chimmi R.D Const | 5455 | 30,000.00 |
| 24 | 18.03.2020 | 23374 | Chisam Lhendup Cosnt | 8543 | 1,000.00 |
| 25 | 26.03.2020 | 23593 | Chitse Construction | 5459 | 5,000.00 |
| 26 | 29.03.2020 | 23446 | Chogjur Const | 8200 | 1,500.00 |
| 27 | 20.04.2020 | 23642 | Choni Const | 1063 | 1,500.00 |
| 28 | 16.03.2020 | 23410 | Chundu Construction | 1473 | 5,000.00 |
| 29 | 25.03.2020 | 23542 | Chundu Tshedtsho Const | 3675 | 2,000.00 |
| 30 | 13.03.2020 | 23211 | CTP Construction | 6149 | 2,000.00 |
| 31 | 15.03.2020 | 23301 | D Lhen Pvt Ltd | 1542 | 5,000.00 |
| 32 | 16.03.2020 | 23313 | D.K Construction | 4102 | 5,000.00 |
| 33 | 14.03.2020 | 23220 | D.KAN'S Construction | 3226 | 10,000.00 |
| 34 | 14.03.2020 | 23258 | D2 Construction | 6107 | 2,000.00 |
| 35 | 20.03.2020 | 23515 | Dawa Tshering CONST Pvt Ltd | 1571 | 20,000.00 |
| 36 | 16.03.2020 | 23312 | Dawa Zangpo Construction | 7184 | 1,500.00 |
| 37 | 14.03.2020 | 23236 | Daza Lamkey Construction | 2067 | 1,000.00 |
| 38 | 27.03.2020 | 23600 | DD Construction | 3816 | 7,000.00 |
| 39 | 14.03.2020 | 23215 | DEE GEE Const Pvt Ltd | 3237 | 30,000.00 |
| 40 | 20.04.2020 | 23638 | Deejay Const | | 1,500.00 |
| 41 | 18.03.2020 | 23377 | Deepening Const | 6492 | 1,500.00 |
| 42 | 18.03.2020 | 23368 | Dejung Bumzang Cosnt | 5478 | 10,000.00 |
| 43 | 21.03.2020 | 23516 | Denka Const | 1469 | 1,100.00 |
| 44 | 25.03.2020 | 23545 | Desang Construction | 1533 | 5,000.00 |
| 45 | 27.03.2020 | 23434 | Dhekhor Construction | 7941 | 5,000.00 |
| 46 | 30.03.2020 | 23451 | Dhendupling Construction | 7701 | 1,006.00 |
| 47 | 20.04.2020 | 23648 | Dhondup Const | 3372 | 2,000.00 |
| 48 | 26.03.2020 | 23551 | DHUGKAR Construction | 7559 | 1,000.00 |
| 49 | 26.03.2020 | 23569 | Dorji Bidha Construction | 1472 | 1,000.00 |
| 50 | 12.03.2020 | 23203 | Dorji Lhendup Construction | 5063 | 30,000.00 |
| 51 | 20.04.2020 | 23639 | Dorji Thegyel Const | 1073 | 1,000.00 |
| 52 | 17.03.2020 | 23345 | Dotila Construction | 1494 | 11,000.00 |
| 53 | 11.04.2020 | 23486 | Dotila Construction | 1494 | 25,000.00 |
| 54 | 16.03.2020 | 23412 | Dragay Const | 7884 | 5,000.00 |
| 55 | 17.03.2020 | 23339 | Dramar Construction | 5892 | 1,000.00 |
| 56 | 13.03.2020 | 23206 | Druk 8 Construction | 5025 | 5,000.00 |
| 57 | 12.03.2020 | 23202 | Druk Chapchab Const Pvt Ltd | 1728 | 50,000.00 |
| 58 | 08.04.2020 | 23480 | Druk Choden Const | 5485 | 5,000.00 |
| 59 | 17.03.2020 | 23420 | Druk Dasel Const and Furniture | 8264 | 5,000.00 |
| 60 | 14.03.2020 | 23246 | Druk Dorgyen Construction | 5806 | 2,000.00 |
| 61 | 14.03.2020 | 23217 | Druk Karzey Builders Pvt Ltd | 6972 | 21,000.00 |
| 62 | 16.03.2020 | 23407 | Druk Lhayul Const | 1664 | 30,000.00 |
| 63 | 18.03.2020 | 23358 | Druk Ngawang Dorji Const | 4107 | 2,000.00 |
| 64 | 12.04.2020 | 23498 | Druk Ngawang Dorji Const | 4107 | 4,100.00 |
| 65 | 25.03.2020 | 23547 | Druk Phuensum Const | 1361 | 5,000.00 |
| 66 | 11.04.2020 | 23485 | Druk Phunesum Const Pvt Ltd | 1827 | 21,000.00 |
| 67 | 16.03.2020 | 23332 | DRUK PHUNSUM Const & Co Pvt Ltd | 1827 | 10,000.00 |
| 68 | 15.03.2020 | 23267 | Druk Rabgyal Construction | 2835 | 5,000.00 |
| 69 | 16.03.2020 | 23413 | Druk Rinpung Builder | 7297 | 5,000.00 |
| 70 | 19.03.2020 | 23378 | Druk Samden Lhendup Const | 6954 | 1,111.00 |
| 71 | 27.03.2020 | 23438 | Druk Samdrup Construction | 1171 | 10,100.00 |
| 72 | 14.04.2020 | 23626 | Druk Tshenden Builder Pvt Ltd | 7905 | 10,000.00 |
| 73 | 15.03.2020 | 23292 | Druk Wangyel Construction | 3415 | 11,000.00 |
| 74 | 27.03.2020 | 23436 | Druk Yargay Dolma Cosntruction | 4944 | 3,000.00 |
| 75 | 18.03.2020 | 23363 | Drukter Builders | 4151 | 5,000.00 |
| 76 | 26.03.2020 | 23562 | DHUGKAR Construction | 7559 | 2,000.00 |
| 77 | 23.03.2020 | 23532 | DW Const | 4381 | 2,500.00 |
| 78 | 15.03.2020 | 23298 | Dzamlha Construction | 7649 | 5,555.00 |
| 79 | 19.03.2020 | 23384 | Dzonghtung Const | 3678 | 1,000.00 |
| 80 | 17.03.2020 | 23340 | E.W Const Pvt Ltd | 2319 | 50,000.00 |
| 81 | 16.03.2020 | 23316 | Eight Builders Pvt Ltd | 3971 | 11,005.00 |
| 82 | 11.04.2020 | 23487 | Eight Builders Pvt Ltd | 3971 | 11,500.00 |
| 83 | 02.04.2020 | 23464 | Ephel Choden Construction | 6914 | 2,000.00 |
| 84 | 18.03.2020 | 23429 | G.D Const | | 10,000.00 |
| 85 | 15.03.2020 | 23402 | Gadap Lhakpa Const | 8100 | 5,000.00 |
| 86 | 25.03.2020 | 23546 | Gado Construction | 2202 | 2,500.00 |
| 87 | 18.03.2020 | 23427 | Gandhi Const | | 5,000.00 |
| 88 | 18.03.2020 | 23369 | Gangri Const | 3015 | 7,000.00 |
| 89 | 14.03.2020 | 23255 | Gawa Yarphel Construction | 6279 | 5,000.00 |
| 90 | 14.04.2020 | 23624 | Gawa Yarphel Construction | 6279 | 3,000.00 |
| 91 | 19.04.2020 | 23637 | Gaydhar Const | 3347 | 3,200.00 |
| 92 | 20.04.2020 | 23647 | Gaysel Yangphel Const | 4430 | 1,000.00 |
| 93 | 14.03.2020 | 23247 | GII Construction | 4920 | 3,000.00 |
| 94 | 23.03.2020 | 23531 | GOENPO Const | 3222 | 2,500.00 |
| 95 | 21.03.2020 | 23517 | GONGTHUNG Const | 3912 | 10,000.00 |
| 96 | 19.03.2020 | 23379 | Gongza Const | 3925 | 1,500.00 |
| 97 | 26.03.2020 | 23595 | Goodcare Builders | 8457 | 2,500.00 |
| 98 | 17.04.2020 | 23633 | Gortap Const | 7305 | 5,000.00 |
| 99 | 15.03.2020 | 23403 | Green Const | 4132 | 5,000.00 |
| 100 | 15.03.2020 | 23282 | Green Road Construction | 8392 | 3,000.00 |
| 101 | 14.03.2020 | 23248 | GS Construction | 3160 | 3,000.00 |
| 102 | 17.03.2020 | 23421 | Gumar Sum Const | 2397 | 5,000.00 |
| 103 | 03.04.2020 | 23471 | Gyem Lhamo Const | 3390 | 1,000.00 |
| 104 | 12.03.2020 | 23201 | Hitech co Pvt Ltd | 4840 | 50,000.00 |
| 105 | 13.03.2020 | 23209 | Issup Construction Pvt Ltd | 4698 | 20,000.00 |
| 106 | 13.03.2020 | 23214 | ISUM NAI SUM Construction | 8125 | 15,000.00 |
| 107 | 16.03.2020 | 23323 | J.M Builders Pvt Ltd | 7494 | 100,000.00 |
| 108 | 14.03.2020 | 23226 | Jabab Const Pvt Ltd | 1149 | 30,000.00 |
| 109 | 24.03.2020 | 23536 | Jabab Tshegyen Const | 5986 | 10,000.00 |
| 110 | 26.03.2020 | 23599 | Jabcho Phuensum Construction | 4592 | 2,001.00 |
| 111 | 25.03.2020 | 23549 | Jamyang Tenzin Cosntruction | 3362 | 1,000.00 |
| 112 | 08.04.2020 | 23481 | Jangchub Builders Pvt Ltd | 7809 | 5,000.00 |
| 113 | 14.03.2020 | 23227 | Jhomo Etho Meto Construction | 8230 | 3,000.00 |
| 114 | 01.04.2020 | 23462 | Jigme Dorji Const pvt Ltd | 1987 | 25,000.00 |
| 115 | 19.03.2020 | 23505 | Jigme Norbuling Const | 4352 | 2,500.00 |
| 116 | 19.03.2020 | 23382 | Jigme Wangchuk Const | 5184 | 5,100.00 |
| 117 | 26.03.2020 | 23574 | Jigmi Dorji Cosntruction | 1093 | 30,000.00 |
| 118 | 26.03.2020 | 23559 | JIGTEN GONGPHEL Construction | | 1,100.00 |
| 119 | 17.03.2020 | 23328 | Jurmey T Construction | 5784 | 2,225.00 |
| 120 | 17.03.2020 | 23348 | K & T Const | 1725 | 3,000.00 |
| 121 | 26.03.2020 | 23571 | K&W Construction | 4065 | 3,000.00 |
| 122 | 13.03.2020 | 23210 | K.C Const Pvt Ltd | 2146 | 15,000.00 |
| 123 | 14.03.2020 | 23230 | K.D Builders Pvt Ltd | 1811 | 25,000.00 |
| 124 | 15.03.2020 | 23404 | K.F Construction | 3162 | 10,000.00 |
| 125 | 19.03.2020 | 23430 | K.G Const | | 5,000.00 |
| 126 | 26.03.2020 | 23586 | K.L.D Construction | 8278 | 5,000.00 |
| 127 | 19.03.2020 | 23389 | K.N Const Pvt Ltd | 1358 | 8,888.00 |
| 128 | 19.03.2020 | 23431 | K.Nawang Const Pvt Ltd | 5466 | 30,000.00 |
| 129 | 26.03.2020 | 23557 | K.Norkhel Construction | | 2,000.00 |
| 130 | 14.03.2020 | 23263 | K.S.T Construction | 8019 | 2,000.00 |
| 131 | 26.03.2020 | 23583 | K.Tobgay Construction | 5449 | 5,000.00 |
| 132 | 18.03.2020 | 23365 | Kachopa Pvt ltd | 6810 | 15,000.00 |
| 133 | 26.03.2020 | 23572 | Karma & Chimmi Builders | 5460 | 50,000.00 |
| 134 | 14.03.2020 | 23237 | Karma Construction | 2350 | 10,000.00 |
| 135 | 17.03.2020 | 23396 | Karma Construction | 2355 | 1,500.00 |
| 136 | 16.03.2020 | 23415 | Karma Ghalay Wangchuk | | 30,000.00 |
| 137 | 26.03.2020 | 23596 | Karma Nidup Construction | 5392 | 1,000.00 |
| 138 | 17.03.2020 | 23349 | Karma Samyul Const | 7143 | 3,000.00 |
| 139 | 13.04.2020 | 23611 | Karma Tobden Const | 8503 | 3,050.00 |
| 140 | 17.03.2020 | 23350 | Karma Tshering Const | 3118 | 2,000.00 |
| 141 | 17.03.2020 | 23424 | KarmalING Const | 7257 | 10,000.00 |
| 142 | 16.03.2020 | 23324 | Karsel Dawa Construction | 5394 | 1,500.00 |
| 143 | 16.03.2020 | 23304 | Karzin Construction | 5825 | 1,000.00 |
| 144 | 30.03.2020 | 23449 | KC Builders | 8184 | 1,000.00 |
| 145 | 18.03.2020 | 23355 | KCJ Builders | 4385 | 1,000.00 |
| 146 | 26.03.2020 | 23575 | KD Samdrup Construction | 4830 | 30,000.00 |
| 147 | 14.03.2020 | 23257 | Keazang Sherub Rigphel Construction | 8397 | 1,501.00 |
| 148 | 16.03.2020 | 23302 | Kelzang Dee Construction | 4148 | 1,500.00 |
| 149 | 15.03.2020 | 23297 | Kencho Tshering Const CO.Pvt Ltd | 1677 | 10,000.00 |
| 150 | 11.04.2020 | 23492 | KF Construction | 3162 | 5,555.00 |
| 151 | 18.04.2020 | 23636 | Khachap DrumbU Const | 8157 | 2,222.00 |
| 152 | 16.03.2020 | 23322 | Khardunng Construction | 4362 | 1,110.00 |
| 153 | 08.04.2020 | 23482 | Kharsa Const Pvt Ltd | 2348 | 5,000.00 |
| 154 | 19.03.2020 | 23392 | Kheni Const | 3764 | 1,000.00 |
| 155 | 11.04.2020 | 23491 | Khuju Construction | 4193 | 10,000.00 |
| 156 | 26.03.2020 | 23592 | Kibu Lungten Construction | 6658 | 5,000.00 |
| 157 | 26.03.2020 | 23594 | Kinga Dendup Construction | 8246 | 5,000.00 |
| 158 | 17.03.2020 | 23333 | Kinzang Construction | 1689 | 1,010.00 |
| 159 | 12.04.2020 | 23495 | Kinzang Rabten Const | 4876 | 5,000.00 |
| 160 | 17.03.2020 | 23341 | kinzang Rapten Const | 4876 | 1,500.00 |
| 161 | 13.04.2020 | 23602 | KN Const Pvt Ltd | 1358 | 21,000.00 |
| 162 | 14.03.2020 | 23231 | Kora Construction | 7254 | 2,000.00 |
| 163 | 23.03.2020 | 23524 | KTP Const | 5465 | 5,005.00 |
| 164 | 15.03.2020 | 23300 | KUENCHAP Pvt Ltd | 1906 | 35,000.00 |
| 165 | 27.03.2020 | 23441 | KUENCHAP Pvt Ltd | 1906 | 5,500.00 |
| 166 | 12.04.2020 | 23497 | Kuenchap Pvt Ltd | 1906 | 9,500.00 |
| 167 | 19.03.2020 | 23380 | Kuenden Builders Pvt Ltd | 2055 | 10,000.00 |
| 168 | 14.03.2020 | 23222 | KUENGA Construction | 1380 | 30,000.00 |
| 169 | 25.03.2020 | 23544 | Kuenga Construction | 1179 | 1,000.00 |
| 170 | 14.03.2020 | 23219 | Kuenga Tandin Construction | 4436 | 1,500.00 |
| 171 | 20.04.2020 | 23640 | Kuenzang Const | 5758 | 2,500.00 |
| 172 | 15.03.2020 | 23288 | Kuenzang Parkaling Construction | 4088 | 2,000.00 |
| 173 | 14.03.2020 | 23234 | kunzang DHENDUP Construction | 3760 | 4,800.00 |
| 174 | 17.03.2020 | 23397 | Kunzang Lhaden Const | 3378 | 1,500.00 |
| 175 | 26.03.2020 | 23589 | Kurmey Yargey Construction | 8284 | 5,000.00 |
| 176 | 20.04.2020 | 23650 | Kurta Const | 7081 | 1,050.00 |
| 177 | 17.03.2020 | 23422 | Kutoe Const | | 5,000.00 |
| 178 | 20.03.2020 | 23510 | KWK Const | 7602 | 2,000.00 |
| 179 | 15.03.2020 | 23283 | Lamnekha Const Pvt Ltd | 1435 | 25,000.00 |
| 180 | 15.03.2020 | 23295 | Layo Construction | 5158 | 1,300.00 |
| 181 | 14.03.2020 | 23228 | Leki Construction | 1698 | 3,000.00 |
| 182 | 13.04.2020 | 23619 | Leki Construction | 1698 | 7,000.00 |
| 183 | 30.03.2020 | 23452 | Leksoo Construction | 1346 | 1,500.00 |
| 184 | 15.03.2020 | 23286 | Lekzin Construction | 4478 | 1,000.00 |
| 185 | 29.03.2020 | 23447 | LG Const | 3751 | 20,000.00 |
| 186 | 20.03.2020 | 23432 | Lhab Tshering Const | 4393 | 5,000.00 |
| 187 | 18.03.2020 | 23353 | Lhabchen Const | 7542 | 5,000.00 |
| 188 | 23.03.2020 | 23528 | Lhaki Constuction (p)Ltd | 1966 | 25,000.00 |
| 189 | 13.04.2020 | 23606 | Lhanam Pelmo Const | 5740 | 10,000.00 |
| 190 | 27.03.2020 | 23439 | Lhanam Phuntsho Wangyel Construction | 3138 | 3,000.00 |
| 191 | 13.04.2020 | 23614 | Lhanor Pvt Ltd | 8324 | 5,005.00 |
| 192 | 20.04.2020 | 23641 | Lhawang Jazin Const | 5645 | 1,500.00 |
| 193 | 18.03.2020 | 23367 | Lhawang Yugyel Const | 7642 | 10,000.00 |
| 194 | 17.03.2020 | 23346 | Lhenduptse Const | 4525 | 3,000.00 |
| 195 | 16.04.2020 | 23629 | Lhenduptse Const | 4499 | 3,000.00 |
| 196 | 14.03.2020 | 23239 | Lingmu Construction | 3542 | 5,000.00 |
| 197 | 13.03.2020 | 23207 | Loden Const Pvt Ltd | 5850 | 25,000.00 |
| 198 | 18.03.2020 | 23373 | Longchen Doenyen Khabasling Const | 8323 | 1,000.00 |
| 199 | 16.03.2020 | 23314 | Lotey Construction | 3325 | 30,000.00 |
| 200 | 15.03.2020 | 23405 | LRW Const | | 5,000.00 |
| 201 | 26.03.2020 | 23560 | Lungsigang Construction | | 1,100.00 |
| 202 | 26.03.2020 | 23587 | Maha Guru Construction | | 5,000.00 |
| 203 | 15.03.2020 | 23293 | Mahabhala Construction | 4845 | 2,000.00 |
| 204 | 26.03.2020 | 23566 | Mangala Cosntruction | 3807 | 2,500.00 |
| 205 | 15.03.2020 | 23294 | Meakha Construction | 4985 | 1,000.00 |
| 206 | 31.03.2020 | 23455 | Mejur Yudung Cosntruction | 3418 | 2,001.00 |
| 207 | 19.03.2020 | 23395 | Meri Const | 3894 | 5,000.00 |
| 208 | 16.03.2020 | 23414 | Mindu Const Pvt Ltd | 1081 | 30,000.00 |
| 209 | 19.03.2020 | 23387 | Mountain Home Const | 8302 | 1,000.00 |
| 210 | 25.03.2020 | 23540 | MTK Const | 1634 | 10,000.00 |
| 211 | 27.03.2020 | 23443 | Muensel Builders | 7891 | 10,000.00 |
| 212 | 20.03.2020 | 23512 | N.Gyeltshen Const | 5369 | 2,555.00 |
| 213 | 16.03.2020 | 23308 | NAALA Construciton | 1282 | 3,000.00 |
| 214 | 16.03.2020 | 23307 | Nagar Junay Construction | 8226 | 2,000.00 |
| 215 | 14.04.2020 | 23627 | Nagtshang Construction | 3759 | 5,000.00 |
| 216 | 23.03.2020 | 23533 | Nala Drukpa | | 2,000.00 |
| 217 | 20.04.2020 | 23646 | Namkha Kuenchap Const | | 1,200.00 |
| 218 | 27.03.2020 | 23445 | Namkhai Const | 2359 | 1,500.00 |
| 219 | 26.03.2020 | 23588 | Namsey Norbu Construction | 3283 | 5,000.00 |
| 220 | 19.03.2020 | 23399 | Nayeab Construction | 7306 | 3,000.00 |
| 221 | 13.03.2020 | 23208 | Neten Const Pvt ltd | 1708 | 15,000.00 |
| 222 | 12.04.2020 | 23496 | Neten Const Pvt Ltd | 1708 | 40,555.00 |
| 223 | 17.03.2020 | 23327 | NETEN Dorji Construction | 4347 | 1,100.00 |
| 224 | 14.03.2020 | 23250 | NGARBA Construction | 7586 | 5,100.00 |
| 225 | 18.03.2020 | 23351 | Ngawang Const | 2307 | 5,000.00 |
| 226 | 15.03.2020 | 23279 | Ngotsher Tashi Yangkhel Construction | 5896 | 1,000.00 |
| 227 | 17.03.2020 | 23330 | Nima Lhamo Const | 1192 | 1,500.00 |
| 228 | 16.03.2020 | 23309 | Ninda Karsum Construction | 4479 | 1,000.00 |
| 229 | 15.03.2020 | 23269 | Niyda Kar Sum Construction | 4412 | 2,000.00 |
| 230 | 14.03.2020 | 23254 | NORBU CHADEN Construction | 6446 | 1,500.00 |
| 231 | 15.04.2020 | 23632 | Norbu Const Pvt Ltd | 4641 | 10,100.00 |
| 232 | 15.03.2020 | 23280 | Norbu WANGZIN Construction | 7720 | 3,000.00 |
| 233 | 14.03.2020 | 23238 | Norgyal Builders | 7798 | 5,000.00 |
| 234 | 26.03.2020 | 23579 | NORLHA BANGZOE Construction | 7551 | 8,000.00 |
| 235 | 14.03.2020 | 23261 | Norzang Const Pvt Ltd | 7906 | 50,000.00 |
| 236 | 23.03.2020 | 23530 | NTT Const Co.Pvt ltd | 4114 | 30,000.00 |
| 237 | 14.03.2020 | 23232 | O.S.T Const Pvt Ltd | 3411 | 30,000.00 |
| 238 | 20.03.2020 | 23514 | Othbar Const | | 1,111.00 |
| 239 | 19.03.2020 | 23506 | P.T Const Pvt Ltd | 4946 | 7,505.00 |
| 240 | 14.03.2020 | 23229 | Paksam Yangkhil Construction | 4529 | 2,000.00 |
| 241 | 24.03.2020 | 23537 | Paldhen Namgyal Const Pvt Ltd | 4639 | 11,000.00 |
| 242 | 18.03.2020 | 23428 | Parop Const | | 10,000.00 |
| 243 | 08.04.2020 | 23478 | Passang Const Pvt Ltd | 2061 | 50,000.00 |
| 244 | 18.03.2020 | 23357 | Passang Construction | 1291 | 3,000.00 |
| 245 | 16.03.2020 | 23411 | Pee Tee Const | 7975 | 5,000.00 |
| 246 | 31.03.2020 | 23457 | Pelchen Sonam Dargay Cosnt | 3685 | 2,001.00 |
| 247 | 20.04.2020 | 23645 | Pelden Drukpa Const | | 1,550.00 |
| 248 | 27.03.2020 | 23433 | Pema Construction | 1846 | 10,000.00 |
| 249 | 26.03.2020 | 23554 | PEMA DUNGTSI Const | 7020 | 3,005.00 |
| 250 | 30.03.2020 | 23450 | Pema Juney Const Pvt Ltd | 6158 | 25,000.00 |
| 251 | 14.04.2020 | 23622 | Pema Juney Const Pvt Ltd | 6158 | 11,000.00 |
| 252 | 20.03.2020 | 23507 | Pema SAMBA Const | | 1,000.00 |
| 253 | 26.03.2020 | 23590 | PEMA WEEZER Construction | 2585 | 5,000.00 |
| 254 | 16.03.2020 | 23318 | Penjor Construction | 1799 | 10,000.00 |
| 255 | 19.03.2020 | 23502 | Penjor Construction Pvt Ltd | 1958 | 100,000.00 |
| 256 | 17.03.2020 | 23338 | Phuntsho Construction | 1837 | 1,550.00 |
| 257 | 27.03.2020 | 23442 | Phuntsho Yangchar Cosnt | 8395 | 2,000.00 |
| 258 | 26.03.2020 | 23591 | Phuntshok Gyelphel Construction | 3493 | 5,000.00 |
| 259 | 31.03.2020 | 23458 | Pioneer Const | 2526 | 5,500.00 |
| 260 | 14.03.2020 | 23241 | PK Construction | 1814 | 2,000.00 |
| 261 | 15.03.2020 | 23287 | Pogo Builders | 7900 | 2,000.00 |
| 262 | 11.04.2020 | 23489 | PT Const | | 5,550.00 |
| 263 | 14.03.2020 | 23218 | Puna Construction | 5388 | 1,111.00 |
| 264 | 26.03.2020 | 23564 | R.D Construction | | 1,000.00 |
| 265 | 26.03.2020 | 23582 | Rabten Builders | 8042 | 5,000.00 |
| 266 | 26.03.2020 | 23556 | Raj Builders | 8468 | 2,000.00 |
| 267 | 15.03.2020 | 23290 | Rangdhen Construction | 8092 | 2,000.00 |
| 268 | 13.04.2020 | 23609 | Raven Builders & Co.Pvt Ltd | 2356 | 2,100.00 |
| 269 | 16.03.2020 | 23321 | Reesum Construction | 3517 | 1,000.00 |
| 270 | 14.03.2020 | 23224 | Rigsar Const Pvt Ltd | 2435 | 100,000.00 |
| 271 | 26.03.2020 | 23576 | Rinchen Bumpa Construction | 3282 | 30,000.00 |
| 272 | 07.04.2020 | 23479 | Rinchen Dorji Const | 2529 | 1,500.00 |
| 273 | 18.03.2020 | 23426 | Rinchen K.N Const | | 5,000.00 |
| 274 | 26.03.2020 | 23581 | Rinchen Samphel Construction | 7667 | 5,000.00 |
| 275 | 17.04.2020 | 23634 | Rinchen SD Const | 7750 | 3,000.00 |
| 276 | 14.03.2020 | 23256 | Rinpong Builders | 7393 | 5,000.00 |
| 277 | 16.03.2020 | 23305 | Rinzin CONST Pvt Ltd | 2118 | 21,000.00 |
| 278 | 02.04.2020 | 23465 | Rinzin Dorji Construction | 1099 | 5,000.00 |
| 279 | 19.03.2020 | 23504 | RL Construction | 1988 | 25,000.00 |
| 280 | 15.03.2020 | 23273 | RMA Construction | 8525 | 3,000.00 |
| 281 | 20.03.2020 | 23513 | Rubjib Passang Norphel Const | 6409 | 2,555.00 |
| 282 | 17.03.2020 | 23342 | RZ Const | 5833 | 1,500.00 |
| 283 | 26.03.2020 | 23577 | S.Gyeltshen Construction | 6375 | 30,000.00 |
| 284 | 16.03.2020 | 23408 | S.T Const M.Hiring | | 10,000.00 |
| 285 | 24.03.2020 | 23535 | Saga Const | 8536 | 1,000.00 |
| 286 | 31.03.2020 | 23454 | Samap Construction | 3873 | 1,500.00 |
| 287 | 26.03.2020 | 23598 | Samphel Daejho Builders | 4173 | 3,000.00 |
| 288 | 14.03.2020 | 23252 | Samphel Dhendup Construction | 4204 | 3,000.00 |
| 289 | 16.03.2020 | 23317 | Samten Construction | 2226 | 3,000.00 |
| 290 | 18.03.2020 | 23366 | SamtenCholing Construction | 3463 | 10,000.00 |
| 291 | 15.03.2020 | 23268 | Sangam Construction | 8350 | 1,000.00 |
| 292 | 18.03.2020 | 23371 | Sangay Dorji Const | 7222 | 4,500.00 |
| 293 | 06.04.2020 | 23477 | Sangay L Construction | 8167 | 3,000.00 |
| 294 | 26.03.2020 | 23578 | Sangay Loday Construction | 3319 | 30,000.00 |
| 295 | 13.03.2020 | 23212 | Sangchuk Construction | 5434 | 5,000.00 |
| 296 | 13.04.2020 | 23607 | Sawatika Const | 7992 | 2,505.00 |
| 297 | 30.03.2020 | 23453 | Se7EN chILDREN Pvt Ltd | 8285 | 10,000.00 |
| 298 | 20.03.2020 | 23511 | Serbu Const | 3891 | 3,000.00 |
| 299 | 01.04.2020 | 23460 | SERNYEL ZEKHIL PVT LTD | 3850 | 20,000.00 |
| 300 | 17.03.2020 | 23336 | Serphu Construction | 3924 | 3,000.00 |
| 301 | 27.03.2020 | 23444 | Sha Shamphel Const | 1402 | 5,000.00 |
| 302 | 15.03.2020 | 23272 | Shakshing Construction | 6023 | 1,500.00 |
| 303 | 14.03.2020 | 23235 | SHAKSHING GOENPA Construction | 6494 | 10,000.00 |
| 304 | 26.03.2020 | 23561 | Shangap Construction | | 3,000.00 |
| 305 | 13.04.2020 | 23613 | Sherab Construction | 1248 | 2,000.00 |
| 306 | 26.03.2020 | 23580 | SHERNYA Construction | 4773 | 5,000.00 |
| 307 | 16.03.2020 | 23306 | Sherub Construction | 1648 | 2,000.00 |
| 308 | 17.03.2020 | 23331 | SHIDHARTH TECH.Construction | 6841 | 1,500.00 |
| 309 | 18.03.2020 | 23370 | Shingjogtang Const | 2324 | 5,000.00 |
| 310 | 16.03.2020 | 23319 | Shomop Construction | 6695 | 3,000.00 |
| 311 | 26.03.2020 | 23563 | SINGPHU Construction | 3923 | 2,500.00 |
| 312 | 22.03.2020 | 23519 | SKD Const Pvt Ltd | 1832 | 25,000.00 |
| 313 | 12.04.2020 | 23494 | SKD Const Pvt Ltd | 1832 | 26,117.00 |
| 314 | 13.04.2020 | 23604 | SKT Const | 5088 | 5,000.00 |
| 315 | 25.03.2020 | 23548 | SL Const Pvt Ltd | 3966 | 21,000.00 |
| 316 | 18.03.2020 | 23352 | Sonam Construction | 1173 | 3,333.00 |
| 317 | 18.03.2020 | 23376 | Sonam G Const | 2260 | 3,500.00 |
| 318 | 18.03.2020 | 23362 | Sonam Gyembo Const | 7810 | 2,500.00 |
| 319 | 26.03.2020 | 23573 | Sonam Jamtsho & Bros Const Pvt Ltd | 3248 | 50,000.00 |
| 320 | 19.03.2020 | 23386 | Sonam Norbu Const | 5782 | 1,000.00 |
| 321 | 31.03.2020 | 23459 | Sonam Rinchen Const Pvt Ltd | 1488 | 5,000.00 |
| 322 | 26.03.2020 | 23567 | Sonam Tenzin Builders | 4130 | 3,000.00 |
| 323 | 16.03.2020 | 23325 | Sonam Tshewang Construction | 6148 | 1,000.00 |
| 324 | 15.04.2020 | 23628 | Sonam Wangmo Builder | 3255 | 1,100.00 |
| 325 | 11.04.2020 | 23483 | SP Const | 1830 | 4,005.00 |
| 326 | 13.04.2020 | 23618 | STAR Builders | 5404 | 1,001.00 |
| 327 | 26.03.2020 | 23558 | SUN BUILDERS | 8471 | 1,500.00 |
| 328 | 15.03.2020 | 23265 | SW Construction | 3396 | 8,888.00 |
| 329 | 13.04.2020 | 23500 | SW Construction | 3396 | 3,000.00 |
| 330 | 17.04.2020 | 23635 | Syernga Const | 8617 | 1,000.00 |
| 331 | 26.03.2020 | 23552 | T & K Const Pvt Ltd | 2490 | 100,000.00 |
| 332 | 16.04.2020 | 23630 | T. DEMA Const | 4192 | 2,000.00 |
| 333 | 17.03.2020 | 23334 | T.Namgyal Construction | 4594 | 5,000.00 |
| 334 | 18.03.2020 | 23372 | T.Norbu Const | 3189 | 2,000.00 |
| 335 | 23.03.2020 | 23525 | T.Norbu. T Const Pvt Ltd | 7317 | 10,005.00 |
| 336 | 14.03.2020 | 23242 | T.T Construction | 1671 | 5,000.00 |
| 337 | 13.04.2020 | 23620 | T.Tobgyel Const Pvt Ltd | 2586 | 35,000.00 |
| 338 | 17.03.2020 | 23347 | T.Yangdon Const | 3690 | 3,000.00 |
| 339 | 14.03.2020 | 23260 | Tagsing Chungdruk Const Pct Ltd | 1748 | 50,000.00 |
| 340 | 20.03.2020 | 23509 | Takin Const | 3789 | 1,008.00 |
| 341 | 25.03.2020 | 23538 | TANA Const | 3112 | 1,000.00 |
| 342 | 17.03.2020 | 23337 | Tanchok Construction | 8041 | 3,000.00 |
| 343 | 19.03.2020 | 23385 | Tandin Dorji Const | 6594 | 1,000.00 |
| 344 | 19.03.2020 | 23390 | Tandin Peljor Const | 7572 | 1,000.00 |
| 345 | 16.03.2020 | 23406 | Tandin Penjor Cosnt | 3005 | 10,000.00 |
| 346 | 14.04.2020 | 23621 | Tandin Wang Construction | 7917 | 1,100.00 |
| 347 | 15.03.2020 | 23281 | Tangbee Construction | 3793 | 3,000.00 |
| 348 | 18.03.2020 | 23356 | Tashi Dejorr Const | 8201 | 1,000.00 |
| 349 | 29.03.2020 | 23448 | Tashi Delek Const | 3151 | 10,000.00 |
| 350 | 13.04.2020 | 23608 | Tashi Norbu Yangkhel Const | 8025 | 2,505.00 |
| 351 | 15.03.2020 | 23299 | Tashi Phuntshum Construction | 3469 | 5,500.00 |
| 352 | 17.03.2020 | 23417 | Tee Pee Const | | 5,000.00 |
| 353 | 19.03.2020 | 23383 | Tee Tee Const | 1891 | 5,000.00 |
| 354 | 18.03.2020 | 23364 | Tenzin Tshewang Const | 2771 | 2,000.00 |
| 355 | 14.03.2020 | 23225 | TGD Construction | 4468 | 5,000.00 |
| 356 | 14.03.2020 | 23245 | Thimphu Construction | 5390 | 5,000.00 |
| 357 | 05.04.2020 | 23474 | Thinley Yangtsho Construction | 3998 | 1,000.00 |
| 358 | 26.03.2020 | 23597 | Thrilchu Gonpa Construction | 3295 | 3,000.00 |
| 359 | 18.03.2020 | 23361 | Thubten Sangag Choeling Const | 3363 | 2,000.00 |
| 360 | 17.03.2020 | 23344 | Thuendral Const | 3145 | 1,500.00 |
| 361 | 22.03.2020 | 23521 | Thuenpa Phuensum Const | 3802 | 3,000.00 |
| 362 | 14.03.2020 | 23249 | TK Construction | New | 3,000.00 |
| 363 | 15.03.2020 | 23291 | TOB-DEN Const Pvt Ltd | 2233 | 21,000.00 |
| 364 | 11.04.2020 | 23484 | TOB-DEN Const Pvt Ltd | 2233 | 11,000.00 |
| 365 | 19.03.2020 | 23391 | Toetsho Kheni Const | 5003 | 5,000.00 |
| 366 | 16.03.2020 | 23310 | Trophel Construction | 3988 | 2,000.00 |
| 367 | 04.04.2020 | 23473 | Tsamgar Construction | 3390 | 55,555.55 |
| 368 | 13.04.2020 | 23616 | Tsangla Const | 3855 | 1,000.00 |
| 369 | 17.03.2020 | 23343 | Tseepa Construction | 5100 | 1,100.00 |
| 370 | 14.03.2020 | 23253 | TSHECHAB Construction | 5044 | 3,000.00 |
| 371 | 04.04.2020 | 23472 | Tsheltrim Meto Const | 2816 | 10,000.00 |
| 372 | 26.03.2020 | 23585 | Tsheltrim Rinzin Construction | 4013 | 5,000.00 |
| 373 | 12.04.2020 | 23499 | Tshenkharla Const | 8626 | 2,000.00 |
| 374 | 22.03.2020 | 23522 | Tshenrab Const | 4949 | 2,100.00 |
| 375 | 14.03.2020 | 23221 | TSHERI DAGYEL Construction | 1112 | 3,000.00 |
| 376 | 05.04.2020 | 23475 | Tshering C Yeozer Construction | 7924 | 1,500.00 |
| 377 | 15.03.2020 | 23289 | Tshering I Construction | 4833 | 3,000.00 |
| 378 | 26.03.2020 | 23584 | Tshering Pedhar Cosntruction | 5525 | 5,000.00 |
| 379 | 25.03.2020 | 23541 | Tshering Pemo Const | 3652 | 3,000.00 |
| 380 | 12.04.2020 | 23493 | Tshering S Construction | 8266 | 11,111.00 |
| 381 | 01.04.2020 | 23461 | Tshering Tobgyel Const | 3267 | 15,000.00 |
| 382 | 19.03.2020 | 23394 | Tshering Zamling Const | 5021 | 5,000.00 |
| 383 | 20.04.2020 | 23643 | Tshewang Const | | 1,150.00 |
| 384 | 03.04.2020 | 23469 | Tshewang Tenzin Const | 4045 | 1,000.00 |
| 385 | 02.04.2020 | 23467 | Tsheyang Dee Const | 7510 | 2,000.00 |
| 386 | 15.03.2020 | 23285 | Tshogyal Tshokey Construction | 6033 | 1,500.00 |
| 387 | 14.03.2020 | 23251 | TSHOK SUM BUILDERS | 8046 | 5,100.00 |
| 388 | 13.04.2020 | 23601 | Tshoka Construciton | 7652 | 1,008.00 |
| 389 | 15.03.2020 | 23266 | Tshokha Construction | 7652 | 1,000.00 |
| 390 | 13.04.2020 | 23612 | TT Construction | 1671 | 7,777.00 |
| 391 | 02.04.2020 | 23463 | U.T Builders | 6993 | 1,000.00 |
| 392 | 15.03.2020 | 23270 | UBW Construction | 7834 | 10,000.00 |
| 393 | 20.04.2020 | 23649 | Ugyen Const | 1078 | 2,100.00 |
| 394 | 16.04.2020 | 23631 | Ugyen Samphel Const | 1957 | 2,000.00 |
| 395 | 14.04.2020 | 23625 | Ugyen Tshenden Const Pvt Ltd | 2978 | 20,000.00 |
| 396 | 20.03.2020 | 23539 | Ugyentse Builders | 6795 | 1,111.00 |
| 397 | 17.03.2020 | 23329 | Uma Rikmy Phunsum Construction | 7622 | 2,055.00 |
| 398 | 16.03.2020 | 23326 | UND Construction | 3392 | 5,000.00 |
| 399 | 13.04.2020 | 23615 | UND Construction | 3392 | 5,000.00 |
| 400 | 16.03.2020 | 23315 | US Builders | 5317 | 2,500.00 |
| 401 | 20.03.2020 | 23508 | UT Construction | 5051 | 1,008.00 |
| 402 | 11.04.2020 | 23488 | UYD Const | 7575 | 1,000.00 |
| 403 | 14.03.2020 | 23233 | VAJRA Builders Pvt Ltd | 3397 | 50,000.00 |
| 404 | 25.03.2020 | 23543 | Wangchuk C.Const | 8287 | 1,550.00 |
| 405 | 22.03.2020 | 23518 | Wangdi Builders | 8231 | 1,100.00 |
| 406 | 22.03.2020 | 23520 | Wangjur Const | 7282 | 5,500.00 |
| 407 | 02.04.2020 | 23466 | Wangnor Engineering Pvt Ltd | 6382 | 25,000.00 |
| 408 | 14.03.2020 | 23240 | WANGS Pvt Ltd | 7646 | 5,000.00 |
| 409 | 18.03.2020 | 23425 | Welcome Const | 2520 | 5,000.00 |
| 410 | 24.03.2020 | 23534 | Y.C Const | 1236 | 5,000.00 |
| 411 | 18.03.2020 | 23354 | YANGCHAG BUILDERS | 8202 | 1,008.00 |
| 412 | 26.03.2020 | 23553 | Yangchenma Const Pvt Ltd | 3481 | 50,000.00 |
| 413 | 19.03.2020 | 23501 | Yangtam Const | 6470 | 3,000.00 |
| 414 | 29.03.2020 | 23610 | Yangtam Const | 5440 | 1,500.00 |
| 415 | 14.03.2020 | 23223 | Yangtse Construction | 4646 | 5,000.00 |
| 416 | 19.03.2020 | 23393 | YANKEY DHENDUP Const | 4913 | 5,000.00 |
| 417 | 26.03.2020 | 23555 | YD Builders | | 3,000.00 |
| 418 | 18.03.2020 | 23375 | Yeezhen Samphel Builder | 8542 | 1,000.00 |
| 419 | 16.03.2020 | 23303 | Yeshey Kuemjung Construction | 3286 | 1,500.00 |
| 420 | 23.03.2020 | 23526 | Yeshey T.Denkar Pvt Ltd | 4266 | 25,000.00 |
| 421 | 02.04.2020 | 23468 | Yethro Dolma Cosnt | 8306 | 2,000.00 |
| 422 | 06.04.2020 | 23476 | Yoesel Wangchuk Construction | 7925 | 3,000.00 |
| 423 | 23.03.2020 | 23523 | Yongphel Builders | 3531 | 5,555.00 |
| 424 | 18.03.2020 | 23359 | YUDUL Const | 4098 | 2,000.00 |
| 425 | 19.03.2020 | 23398 | YULCHEN Const | 3546 | 1,110.00 |
| 426 | 17.03.2020 | 23423 | Yungkar Const | 7647 | 5,000.00 |
| 427 | 14.03.2020 | 23244 | ZHALZEY Construction | 4143 | 2,500.00 |
| 428 | 13.04.2020 | 23617 | Zhendrup Const | | 3,100.00 |
| 429 | 21.04.2020 | 23651 | Somden Const | 6261 | 1,000.00 |
| 430 | 22.04.2020 | 23652 | Nangkhor Const | 4268 | 1,020.00 |
| 431 | 23.04.2020 | 23653 | Ugyen Tshering Const | 1211 | 2,110.00 |
| 432 | 23.04.2020 | 23654 | Doman Const | 5572 | 1,200.00 |
| | | | | | |
| | | | Total Amount Nu:- | | 3,667,454.55 |
| | | | | | |